"This is a return to the Kandi Steiner of 2016 who brought us Weightless and A Love Letter to Whiskey. Prepare for the burn." -- Author Sarah E. Green
Make Me Hate You, an angsty, emotional stand-alone romance from bestselling author, Kandi Steiner,is LIVE!
If he kisses me right now, I'll drown.
Every sip of air is shallow and burning, because in the arms of my best friend's brother, I'm the closest I've ever been to sin.
His eyes flick to my lips, and I remember the first time I tasted him, seven years ago before I left this town and vowed never to return. His hands grip my waist, and I remember the pain when he rejected me, when my entire world crashed down at his command. His jaw clenches, and my senses come alive with one stinging reminder.
I'm not his to kiss, and he's not mine.
I tried to stay away from Tyler Wagner, putting an entire country between us. But when his sister's wedding brings us back to the same town, to the same house, I can't avoid him, no matter how hard I try.
He's always there, his dark eyes bewitching, luring me into their depths. The memory of us pulls me under like a rip current, and when he flashes that smile, I lose my breath, along with my will, unable to escape his grip and find the surface.
Now, hours before our plus ones arrive for the wedding, I'm in his arms, begging him to make me hate him, knowing he never could.
If he kisses me right now, I'll drown.
And I'll take him down with me.
Make Me Hate You is a best friend's brother romance that will have you on the edge of your seat from start to finish.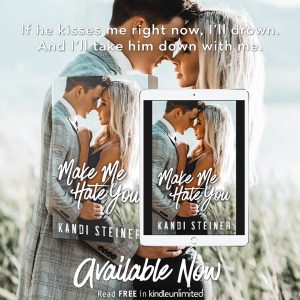 Pre-order today!
My Review
I received an advanced copy of this book with the promise of an honest review.
After graduating high school, Jasmine left home and didn't look back. The reason for that? Tyler Wagner shattered her heart. She has managed to stay away for 7 years, but now her best friend, who also happens to be Tyler's sister is getting married and she is the maid of honor. On the surface Jasmine has moved on. She has a successful career and a loving boyfriend. But all it takes is seeing Tyler again for her to realize that maybe staying away for as long as she did was not the best choice.
I enjoyed this book. The tension between Tyler and Jasmine was one that you could cut with a knife and there was a lot of "Will they? Of course they will. But when? Ahhhh!" going on. They agree that they should try to stay friends, but the they both find that hard to do. There are a lot of unresolved feelings and a lot of unsaid words.
I enjoyed this book, but I will say that the one thing that is still bugging me, days after I finished reading it, is how easily Jasmine forgave Morgan for something she did. I know I would have been way more angry about it than Jasmine was, but I also felt like Morgan didn't really look at the big picture and see the consequences of her actions. Everything about her really rubbed me the wrong way.
If you like your books full of angst, this is the book for you. If you enjoy the best friend's brother trope, this is the book for you. If you enjoy Kandi's books, this is the book for you. But let me throw in a content warning here and say that if you don't like cheating, this IS NOT the book for you.
EXCERPT
Seven miles and an hour later, and all the anxiety I'd felt the night before was completely gone.

At least, until I rounded the foyer into the kitchen and saw I wasn't the only one up early on Sunday morning.

Tyler sat at the kitchen island, still in his navy blue sweat pants and simple white t-shirt, with one foot planted on the ground and the other hooked casually on the lower bar of his stool. His hair was an absolute disaster, the boyish waves sticking up this way and that. He had both hands wrapped around a mug of hot tea, his eyes focused on the iPad he had propped up in front of him, and BlueTooth headphones in his ears.

At first, he didn't notice me, and I slowed my steps, standing silently at the entry of the kitchen and watching him. I'd done everything I could last night to avoid his gaze, to not look at him, and now that I had a stolen moment to observe, I found my chest tightening again, my mouth dry and sticky.

His brown eyes were hidden beneath bent brows, expression serious as he watched whatever was on the screen. Small lines creased the edges of his eyes — lines that weren't there when we were kids. He'd grown into a man somehow, overnight, it seemed. Then again, it had been years.

I'd seen him on social media, watched from afar as his YouTube channel took off. I'd seen pictures of him on Instagram — traveling through Europe, hiking in Australia, swimming in hot pools in Iceland. I didn't follow him, of course, but his profile was public, which allowed me to flip through picture after picture on the nights when I was a pathetic mess.

But, pictures and videos didn't do justice to the actual man who sat studiously at that kitchen island.

He was something between the boy I used to love and the man I'd never know, familiar and unreachable all at once.

Tyler shook his head at something, letting out a frustrated sigh and kicking back the bar stool a little before taking a sip of his tea. His eyes flicked to me then, back to the screen, and then, he did a double take, this time fixing his gaze on me and leaving it there.

Something changed in his eyes when he looked at me, like a shadow passed over them and held him captive. I was dressed in jogger shorts and a modest tank top, but from the way he watched me, I might as well have been completely naked.

That's what his gaze did to me, what it always had done.

It stripped me bare.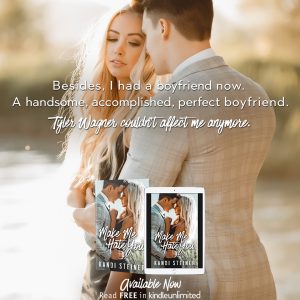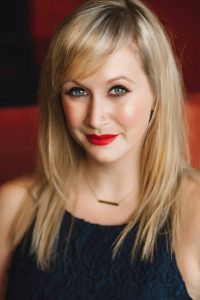 Kandi Steiner is a bestselling author and whiskey connoisseur living in Tampa, FL. Best known for writing "emotional roller-coaster" stories, she loves bringing flawed characters to life and writing about real, raw romance — in all its forms. No two Kandi Steiner books are the same, and if you're a lover of angsty, emotional, and inspirational reads, she's your gal.
An alumna of the University of Central Florida, Kandi graduated with a double major in Creative Writing and Advertising/PR with a minor in Women's Studies. She started writing back in the 4th grade after reading the first Harry Potter installment. In 6th grade, she wrote and edited her own newspaper and distributed it to her classmates. Eventually, the principal caught on and the newspaper was quickly halted, though Kandi tried fighting for her "freedom of press." She took particular interest in writing romance after college, as she has always been a die-hard hopeless romantic, and likes to highlight all the challenges of love as well as the triumphs.
When Kandi isn't writing, you can find her reading books of all kinds, talking with her extremely vocal cat, and spending time with her friends and family. She enjoys live music, traveling, anything heavy in carbs, beach days, movie marathons, craft beer, and sweet wine — not necessarily in that order.
Connect with Kandi
Kandi Steiner may be coming to a city near you! Check out her "events" tab to see all the signings she's attending in the near future:
www.kandisteiner.com/events